We guide our clients through two critical processes that need to run well for an organization to be successful with AI: experimentation and operationalization. The processes are separate, but related. Experimentation translates business pain-points into data-inspired solutions, and operationalization takes potential solutions, validates the business value, and gets them into the hands of decision makers.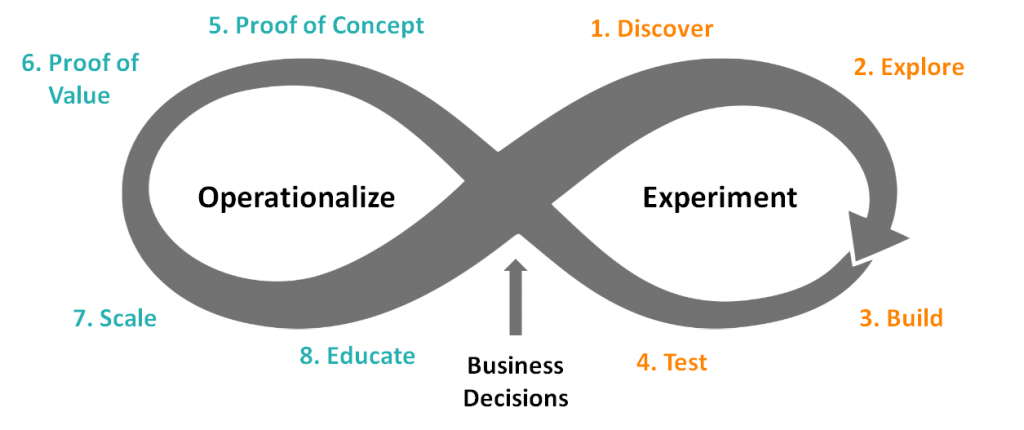 Our Four-Step Process to Data Science and AI Success
Step 1
Our journey with you starts with an AI Ideation Session to align your organization's priorities with high-value use-cases. This session activates key stakeholders, provides expert facilitation to discuss opportunities to leverage AI at your organization, and educate your team in the art of the possible.
Step 2
For clients who have an AI Strategy and pilot priorities established, we offer an AI Discovery engagement. The purpose of this Discovery is three fold; 1. Deep dive into feasibility; 2. Research appropriate machine learning methodology and tools; 3. Design a roadmap and project plan to go from pilot to operationalized solution.
Step 3
With an AI Discovery established, we develop a high-fidelity Proof of Concept. Our POC is a minimum viable product to test and validate the assumptions and return on value proposition before investing significantly in scaling. The POC is intended to be high fidelity with a lower barrier to scale up for production.
Step 4
Operationalization is the last mile in the lifecycle of an AI solution. This is where many AI projects fail today. We partner with your stakeholders to demonstrate proof of value and develop the necessary infrastructure to support the long-term deployment and maintenance of the solution over time. Finally, we develop a user adoption plan to ensure the successful deployment and use of the solution.