AI Discovery & Design
A highly collaborative engagement harnessing the power of client industry expertise and our expertise in AI & ML
Using a human-centered, design thinking approach, we meet clients at their stage of AI maturity, successful adoption of AI and ability to scale
During the Discovery phase, we assess the client's current state and level of AI-maturity. This collaborative deep dive into the business helps us to understand the nature of decision making and workflows, any barriers to AI adoption, and the nature of data collected – including how the data is acquired, performing exploratory data analysis, and looking at governance around the data. Deliverables are typically clear requirements and articulated value proposition.
During the Design phase, Using design thinking principals, we design a proof of concept, focusing on statistical validation of the model and the feasibility to develop and scale in the organization's ecosystem. This includes iterative experimentation and learning, researching appropriate AI / ML methodology (model selection, feature engineering, testing and selecting different models), allowing us to further refine the problem statement. Deliverables are typically validated assumptions and a development plan.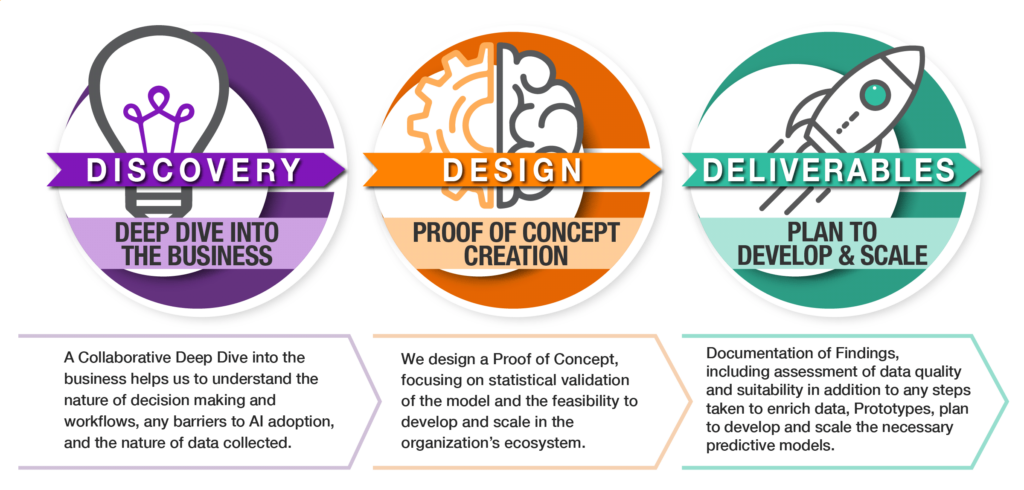 What does the Discovery and Design process look like?
Our solution roadmaps are based on agile methodology applied to data science: we work in week-long sprints incrementally exploring and validating different assumptions and analytical capabilities that contribute to the final solution.
We de-risk the development of AI projects by addressing barriers to trust in the solution. The process is designed with three goals in mind:
1. Understand the nature of decision making, workflow, and pre-existing technology that the solution will ultimately impact
2. Identify potential barriers to adoption or trust that must be taken into consideration during the design process
3. Understand the nature of collected data and how that influences the selection of machine learning methods
Example deliverables include…
Documentation of findings, including assessment of data quality and suitability in addition to any steps taken to enrich data
Prototypes and initial validation results of models
Recommendations for next steps and plan to develop and scale the necessary predictive models
Discovery & Design sets the stage for AI
development ,
bringing your idea to life
Here's how we've helped 60+ clients execute 100+ multi-year scopes and projects
Increased monthly revenues by 13% for a benefits management company
Improved net promoter score by 20% for a global manufacturer
Detected thousands of unnoticed threats at a major utility company
Showcased how the public interacts with 60,000+ pieces of Open Access artwork, encompassing over 1 million website views, nearly 9 million API downloads, and over 65 million Wikipedia views
Empowered 1000 department and account managers to understand key metric driving 15 months of forecasted revenue of their top customers
Identify anomalies in surgical care outcomes among hundreds of thousands of procedures for a healthcare system
Analyze patterns across 400,000 retinal scans for medical research for a healthcare system
Predict missing attributes for a database of 30,000 patients for a health tech startup
Condense thousands of pages of technical documentation into a natural language question-answering solution for a global technology company
Additional services
No matter the stage in your AI transformation, our team will meet you where you are to design and develop trustworthy AI solutions that create a clear competitive advantage
AI Workshop
Need help setting the foundation for AI success? We can help identify your most valuable use cases.
Advisory Services
We help ease the burden of bringing AI & data science in-house with both leadership and project-level support for your team.